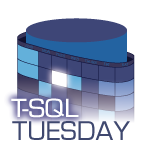 It's time for T-SQL Tuesday and this month's edition is hosted by Ewald Cress (b|t). It's non-technical this month because we're all recovering from PASS Summit. Ewald asks us to:
give a shout-out to people (well-known or otherwise) who have made a meaningful contribution to your life in the world of data.
This post is both difficult and easy. Difficult because there are so many people in the community whom I've learned from. But easy because there are a
Allen White (b | t)
I met Allen in the winter of 2011. Allen was a consultant and my employer engaged with his firm for help with a SQL Server migration/upgrade and DBA services. Allen introduced me to PASS, the SQL Server community, and helped me discover a passion for the field. I had previously dabbled with SQL Server, and tried to pick up what I could on my own and from random internet searches, but I spent a lot of time fumbling around and learning bad habits. Allen got me pointed in the right direction and drew me into the #SQLFamily. He is one of the first people I look for every time I go to SQL Saturday Cleveland or PASS Summit.
Kendal Van Dyke (b | t)
A little over a year after I met Allen, Kendal joined his team and I started working with him. Kendal became our primary DBA and when we had difficulties with SQL Server (or, more accurately, our application was giving SQL Server agitation) Kendal was our first call. I worked on a number of issues with Kendal; he knows SQL Server inside and out, and I was deeply familiar with the application that was giving it trouble so we made a good combination and I learned a lot about troubleshooting/debugging and some creative ways to resolve/work around application issues that can't be fixed at the application layer. Kendal even hosted my first-ever blog post! Every now and then, something pops up on Twitter and we reminisce about the good ol' days.
Matt Slocum (b | t)
I met Matt when I started attending my local user group meetings (or maybe it was at PASS Summit 2012, after which I started going to the local meetings). He somehow talked me into helping him run the local SQL Saturday, then talked me into taking over running SQL Saturday. As I described in my post earlier this year about how I became a DBA, he gave me that final nudge to say "yes, I want to be a DBA now. It's time to make it happen."
Chris Sommer (b | t)
I met Chris through our local user group and it turns out we know a lot of the same people despite never having worked together; there aren't a lot of SQL Server folks in town! Chris took a new job around the same time I changed jobs earlier this year so we've been out for quite a few lunchtime runs and walks where we discuss various technical (and non-technical) challenges we face at work.
Chrissy LeMaire, Rob Sewell, Constantine Kokkinos, Shawn Melton
Newcomers to this list. This group (and really, I can't single any one of them out) has welcomed me into the dbatools team and been very patient with me as I've learned GitHub, learned how to work within the goals/parameters of dbatools, and let me fire off a lot of pull requests just to do things like spelling corrections. It's a whole new piece of the SQL Server community they've helped me get exposure to, and at Summit this year I was shocked when I had people coming up to me saying "hi, I wanted to meet you" or "hey, you work on dbatools? I need some help…" My Impostor Syndrome has been working overtime here; it's been a few months now and I still can't believe they let me work on this stuff. I've been honing my own PowerShell skills, learning more about dbatools, and reinforcing what I thought I already knew by reading so much of their code as I work on my various fix-ups – and even making real code changes!
To everyone named here, and the whole SQL family, thank you. If you have ever attended or organized a SQL Server-related event – SQL Saturday, Summit, User Group meeting, webinar, or blog party – you have had an effect on me. My career would not be where it is today without you.